Discover more from The New Christendom Daily
We are the meta-narrative the Satanic Sex Cult of Death Fears
Over 5,000 subscribers
How Catholic Community Is Supposed To Work With Backwater Foie Gras' Ross McKnight
Pride Month Zealots picked the wrong "Louisianais" to blackmail into rainbow submission
"If we don't stand here, on the last assault of the family, then there's no more ground left behind us." - Ross McKnight, Backwater Foie Gras
In addition to honoring June as the month of devotion to Our Lord's Sacred heart, we should call June "hero month". June kicks off with St. Charles Lwanga and Companions who were martyred because they resisted the sodomy advances of the sick king of Uganda (June 3rd). We know of the holy heroism of St John The Baptist (his Nativity is the 24th) who will offer up his head, literally, for sacramental marriage that his cousin, Jesus of Nazareth was laying His law down for. We know of the martyrdom of Saints Peter (martyrdom is the 29th) and Paul (commemoration day is the 30th). But what we don't seem to know very much about are the heroes walking among us right now, men and women who are standing for the faith in the zeitgeist that buggery month has become.
Men like Ross McKnight who I interviewed on today's Mike Church Show for the New Christendom Daily this morning.
---
Note From Mike: last month I asked listeners & readers to PLEASE follow The New Christendom Daily on iTunes Podcasts (follow here) and help us get to 10k DAILY plays of this New Christendom Daily Podcast - NCDP. Since then, the NCDP has grown by 640% which puts us HALFWAY to our first milestone of 1,000 listens per day. PLEASE continue sharing and promoting the NCDP via Apple's Podcasts and THANK YOU! For Extra Credit, Please Leave a Review!
---
ICYMI Ross had the unmitigated gall to declare his love for Our Lord's Scared Heart over worshipping the rainbow calf of Wokeback Mountain: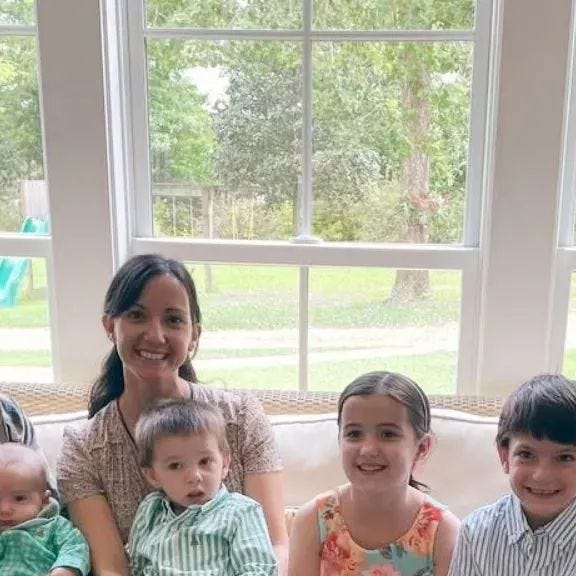 Backwater Farmstead on Instagram: "Dear Friends of Backwater Foie Gras, It would be difficult to miss the fact that we are Catholics who sincerely hold what Holy Mother Church teaches. Subsisting upon the realities of the Faith instills certain motivations and desires, one of those well-ordered desires being to make beautiful things, hence the very existence of our foie gras farm. Recently, we received two texts from two restaurant owners who have decided that they've had enough of our Catholicism based on our latest Instagram feed post and have cancelled their large, recurring orders. One of these restaurant owners had a long-standing relationship with us. While we've never required our customers to pass a litmus test before serving them, it seems our values, which come from lives lived as Louisiana Catholics, are considered unacceptable by some. We count it a privilege to have lost much. It is an honor to participate, through the suffering of our family, in the triumph of the Sacred Heart of Jesus and the Immaculate Heart of Mary. We have already seen Divine Providence working through all of this, and we have already seen that business we lost by rejecting pride beginning to be restored - in no small part by fellow Catholics who have reached out to support us and to share in the great victory that it is to suffer for and with Christ the King. Already many chickens have been purchased or spoken for. I have also received communications from a very well-known chef who wants to buy as much as we can provide. This to say: the glory of the Sacred Heart of Jesus will grow and be established throughout the world no matter the obstacle, and God cares for our well-being. He is a good General, and He knows how to maintain His troops. We are grateful! - And we will remain, as always, irreformably Catholic. Pour Dieu et Le Roi, Ross "If the world hate you, know ye, that it hath hated me before you." - John 15:18-25
#louisianafoiegras
#louisiana
#backwaterfoiegras
@radioharrison
@evitaduffy_1
″
Over at The Federalist, Evita Duffy Alfonso reports what happened next.
Long before the left invented "pride month," the Catholic Church dedicated June to the Sacred Heart of Jesus, a tradition originating from the 17th-century visions of Christ received by French nun St. Margaret Mary Alacoque. Enter Ross McKnight, a Louisiana Catholic father of five and owner of Backwater Foie Gras, whose business is now under attack after he made an Instagram post on Sunday commemorating the Sacred Heart of Jesus that provided his followers with ways they can protect themselves from "false pride" and counter the "attempted coup of the month of June." 

McKnight's post was fairly innocuous, encouraging his followers to adhere to the traditional liturgical calendar — instead of the new secular one — and to hold onto their French Catholic identity by "enthron[ing] the Sacred Heart in your home this month," "Wear[ing] the Sacred Heart as a badge wherever you go," "Pray[ing] the Rosary" in French, and reading his blog post titled, "This Tremendous Weight."
More from The Federalist….
Since his Instagram post, nearly two-thirds of McKnight's business has evaporated, putting him and his family in a dire financial situation. Yet when interviewed by The Federalist, McKnight expressed a baffling sense of peace and even joy. "There's that animal need to have food and shelter and clothing — certainly," and "I'm concerned," said McKnight. "But I don't know how to precisely explain myself … I've lost everything overnight, but the suffering is valuable," he said. 

"If we don't stand here, on the last assault of the family, then there's no more ground left behind us," McKnight explained. For him and his wife and children, defending the traditional family unit, their culture, and their faith is more important than anything.
The New Christendom Daily is a reader-supported publication. To receive new posts and support my work, consider becoming a free or paid subscriber.
Wow. I haven't read words like that since last August's celebration of the feast of Saint Bernard (August 19th) who I quoted in an address I gave to a Congress held by some dear friends of mine in Michigan.
How can you not know that we live in a period of chastisement and ruin? The enemy of mankind has caused the breath of corruption to fly over all regions; we behold nothing but unpunished wickedness. Neither the laws of men nor the laws of religion have sufficient power to check the depravity of customs and the triumph of the wicked. The demon of heresy has taken possession of the chair of truth, and God has sent forth His malediction upon His sanctuary.

Why do you hesitate to repair so many evils; to revenge so many outrages? Will you allow the infidels to contemplate in peace the ravages they have committed on Christian people?

Remember that their triumph will be a subject for grief to all ages and an eternal opprobrium upon the generation that has endured it. Yes, the living God has charged me to announce to you that He will punish them who shall not have defended Him against His enemies.
Let us take great joy in knowing that in addition to the Ross McKnight's there are heroic women like the Slaves to The Immaculate Heart of Mary in Still River, MA (and h/t Richmond New Hampshire). In 2015, the Slaves withdrew from their beloved Saint Patrick's Day parade when that scion of fake catholic piety Marty Walsh introduced buggerers to the parade. The Slaves responded by recording this ditty set to "The Leaving of Liverpool.
Recently the same sisters have recorded a tune that defends the Traditional Latin Mass which is under increasing assault from inside the Catholic Church, titles The Mass of Ages. My friend, the erudite and tireless defender of The Faith (dicere de viris heroicis!), C. Joseph Doyle wrote of the sisters latest…
While The Leaving Of Boston was based upon a traditional Irish work, dating back to the 19th century, The Mass of All Time repurposes a modern Irish masterpiece, Phil Coulter's The Town I Loved So Well---his 1973 elegy to his war-torn hometown of Derry during the Troubles.

The beautiful lyrics of The Mass of All Time are affecting, edifying and resolutely Catholic. They hearken back to Penal times, when, despite every oppression, the Irish were determined to preserve the Faith and the Mass of their fathers.

Although we are surrounded by chaos and immorality, Catholic culture, sustained by the traditional Faith of the Catholic Church and the ancient liturgy of the Roman Rite, is alive and well in one corner, at least, of Massachusetts.
(follow Joe's Catholic Action League of Massachusetts here)
There's 19 days remaining in June and Celebrate Humility Month, which, as McKnight's story shows can give "simple farmers" and simple— (insert vocation here) e.g. radio guys, plenty of opportunities to perform "public acts of catholic piety" as my radio colleague Fiorella de Maria put it recently.
So heroic gentlemen of New Christendom, give us something heroic to talk & write about, Our Lady is relying upon us.
Saint Joan d'Arc & Our Lady of Fatima, ora pro nobis!